Regular price
$18,000 USD
Regular price
Sale price
$18,000 USD
Unit price
per
Sale
Sold out
The sculpture is beautifully crafted by artisans from Jaipur. It is made of  Sandalwood and would remain as it is for hundreds of years.
The above statue will be made upon order and has to be hand-carved with a making time of 4 Months.
Handicraft Wooden Viswaroopam With Mahabharata Story  Sculpture
In the climactic war in the Mahabharata, the Pandava prince Arjuna and his brothers fight against their cousins, the Kauravas with Krishna as his charioteer. Faced with a moral dilemma that whether or not to fight against and kill his own or for dharma (duty), Krishna discourses him about life and death and reveals his Vishvarupa as a theophany. In chapters 10 and 11, Krishna reveals himself as the Supreme Being and finally displays his Vishvarupa to Arjuna. Arjuna experiences the vision of the Vishvarupa with divine vision endowed to him by Krishna. Vishvarupa's appearance is described by Arjuna, as he witnesses it. 
Vishvarupa has innumerable forms, eyes, faces, mouths, and arms. All creatures of the universe are part of him. He is the infinite universe, without a beginning or an end. He contains peaceful as well as wrathful forms. Unable to bear the scale of the sight and gripped with fear, Arjuna requests Krishna to return to his four-armed Vishnu form, which he can bear to see. Fully encouraged by the teachings and darshan of Krishna in his full form, Arjuna continued the Mahabharata War. 
There are two more descriptions in the Mahabharata, where Krishna or Vishnu-Narayana offers the theophany similar to the Vishvarupa in the Bhagavad Gita. When negotiations between Pandavas and Kauravas break down with Krishna as the Pandava messenger, Krishna declares that he is more than human and displays his cosmic form to the Kaurava leader Duryodhana and his assembly. Vishvarupa-Krishna appears with many arms and holds many weapons and attributes traditionally associated with Vishnu like the conch, the Sudarshana chakra, the Gada (mace), his bow, his sword Nandaka. The inside of his body is described. Various deities (including Vasus, Rudras, Adityas, Dikapalas), sages, and tribes (especially those opposing the Kauravas, including the Pandavas) are seen in his body. This form is described as terrible and only people blessed with divine vision could withstand the sight. 
The other theophany of Vishnu (Narayana) is revealed to the divine sage Narada. The theophany is called Vishvamurti. The god has a thousand eyes, a hundred heads, a thousand feet, a thousand bellies, a thousand arms, and several mouths. He holds weapons as well as attributes of an ascetic like sacrificial fire, a staff, a kamandalu (water pot). 
Another theophany in the Mahabharata is of a Vaishnava (related to Vishnu or Krishna) form. It misses the multiple body parts of Vishvarupa but conveys the vastness and cosmic nature of the deity. His head covers the sky. His two feet cover all ground. His two arms encompass the horizontal space. His belly occupies the reattaining space in the universe. 
Vishvarupa is also used in the context of Vishnu's "dwarf" avatar, Vamana in the Harivamsa. Vamana arrives at the asura king Bali's sacrifice as a dwarf Brahmin boy and asks for three steps of land as a donation. Where the promise is given, Vamana transforms into his Vishvarupa, containing various deities in his body. The sun and the moon are his eyes. The earth his feet and heaven is his head. Various deities; celestial beings like Vasus, Maruts, Ashvins, Yakshas, Gandharvas, Apsaras; Vedic scriptures and sacrifices are contained in his body. With his two strides, he gains heaven and earth and places the third on Bali's head, who accepts his mastership. Bali is then pushed to the realm of Patala (underworld).
Vishvarupa is also interpreted as "the story of evolution," as the individual evolves in this world doing more and more with time. The Vishvarupa Darshan is a cosmic representation of gods and goddesses, sages and asuras, good and the bad as we perceive in our own particular perspective of existence in this world. 
Ref: Wikipedia
Shipping & Returns

· Professional worldwide delivery, monitored by our logistics experts

· Shipping fees, duties and taxes are included in the price

· 14 day free returns (except made-to-order items)
Care Instructions

Clean with soft dry cloth on a regular basis. In case of dust accumulation gently dust of the surface with a fine brush.
One Of A Kind

Original work with a certificate

Free Shipping Worldwide
Whatsapp Support: +91 8290383535
View full details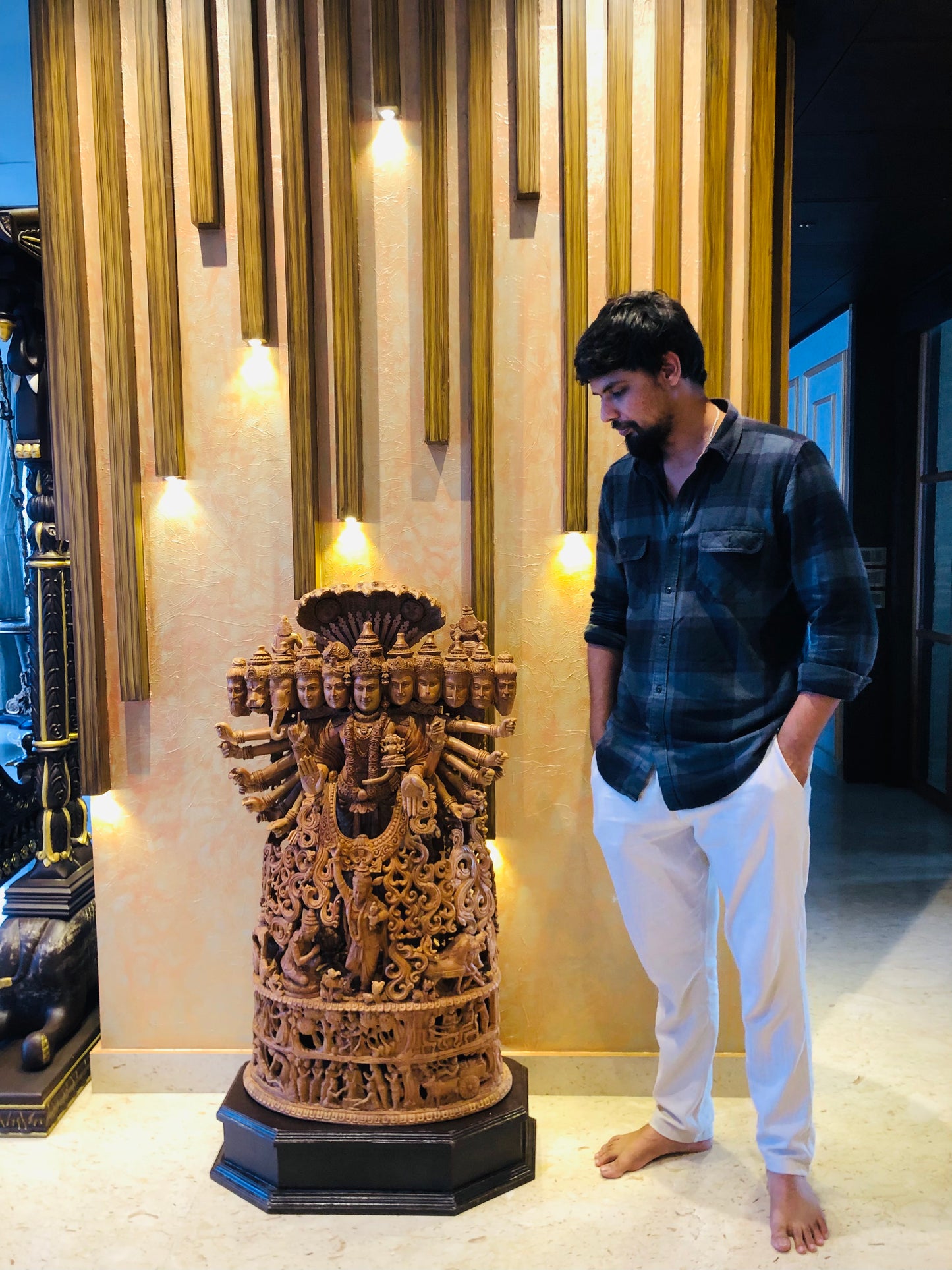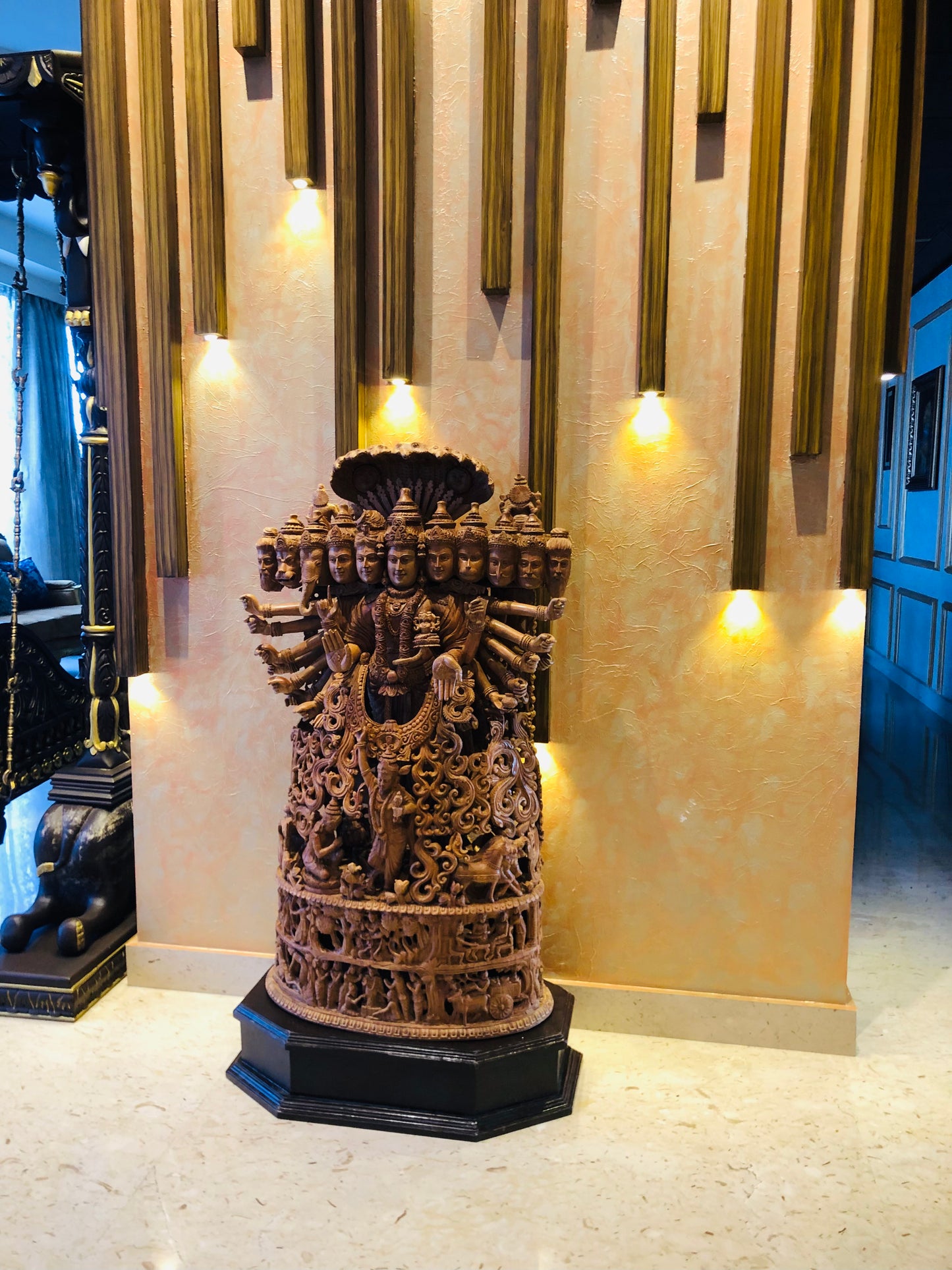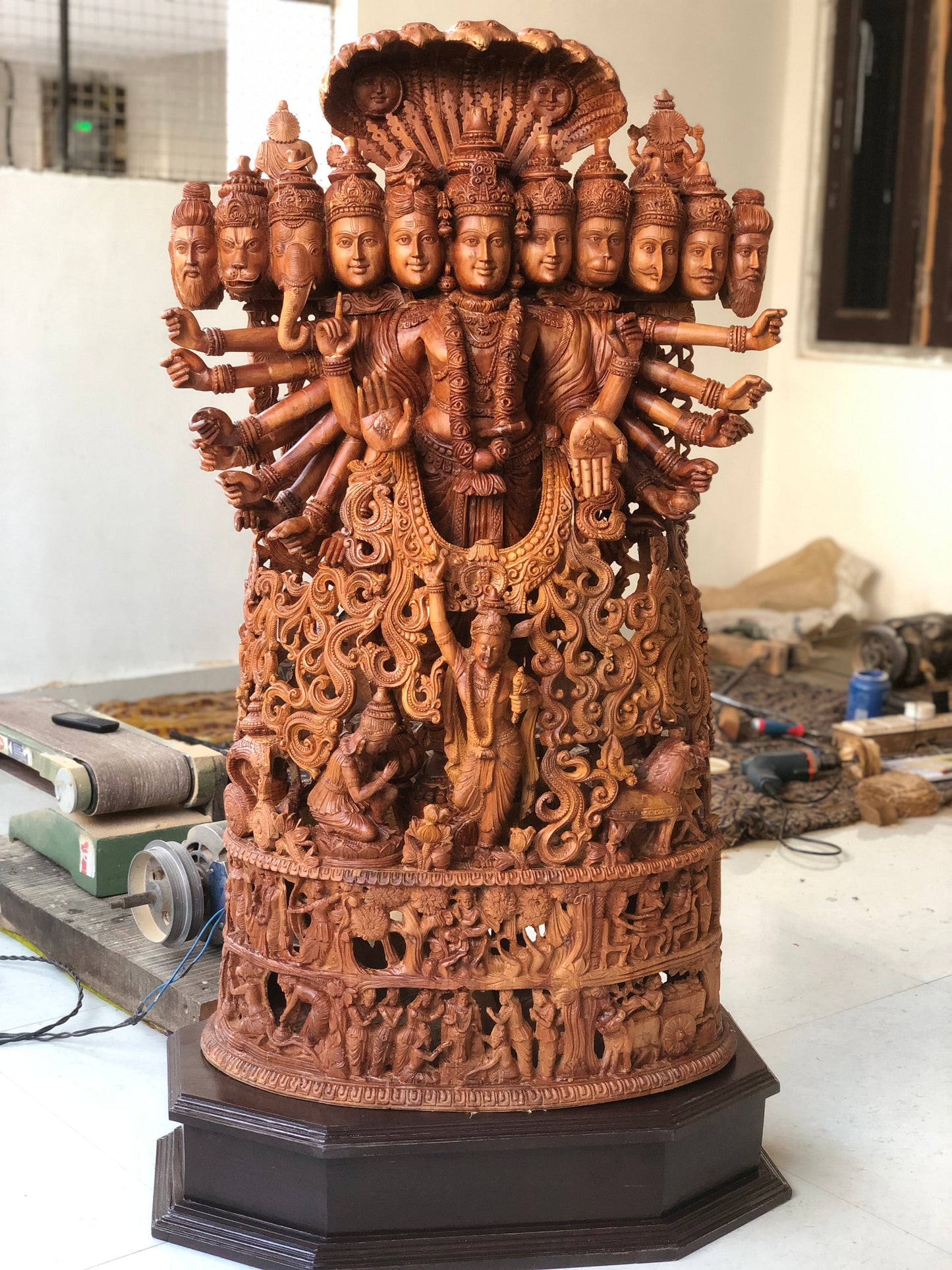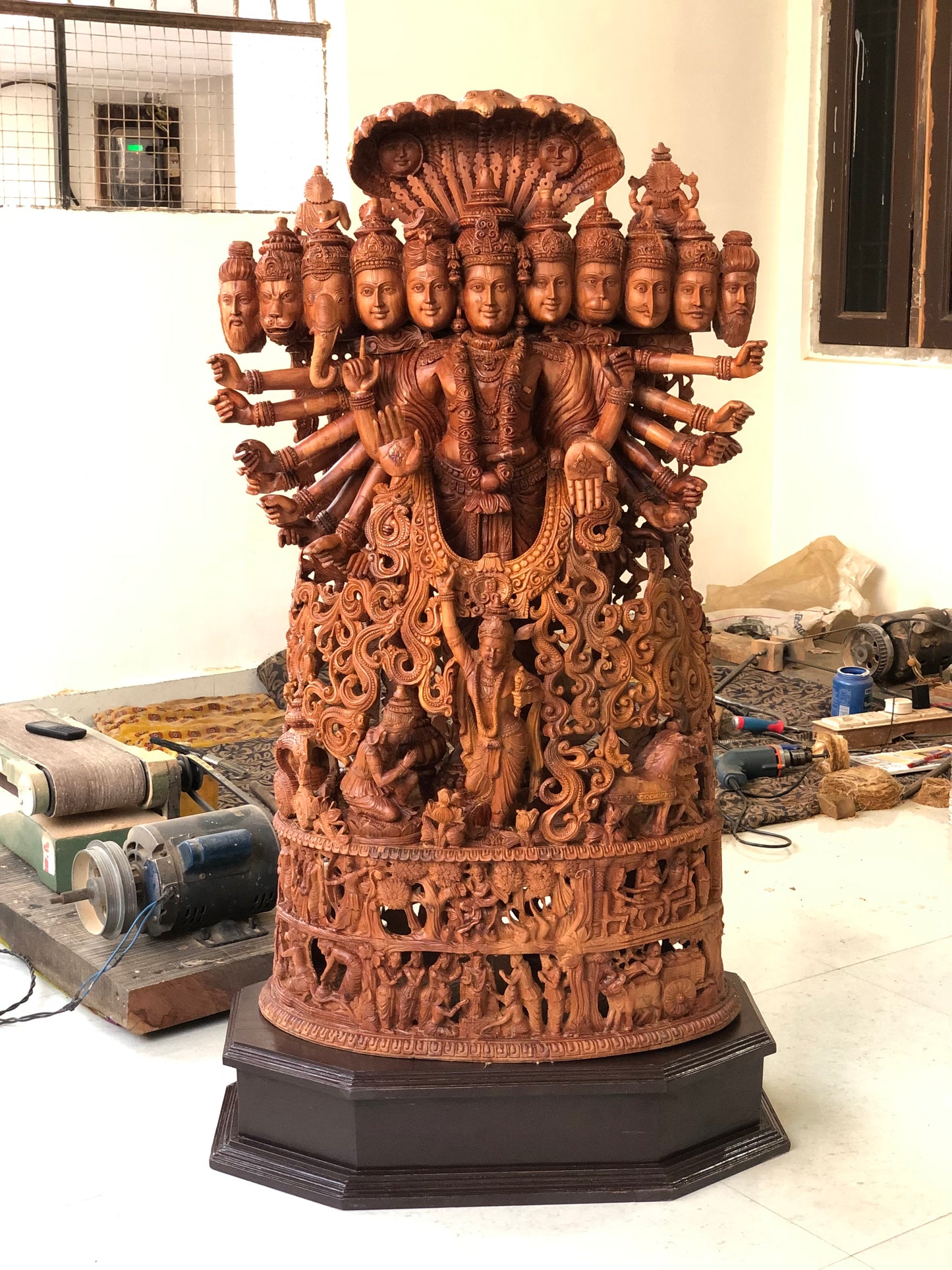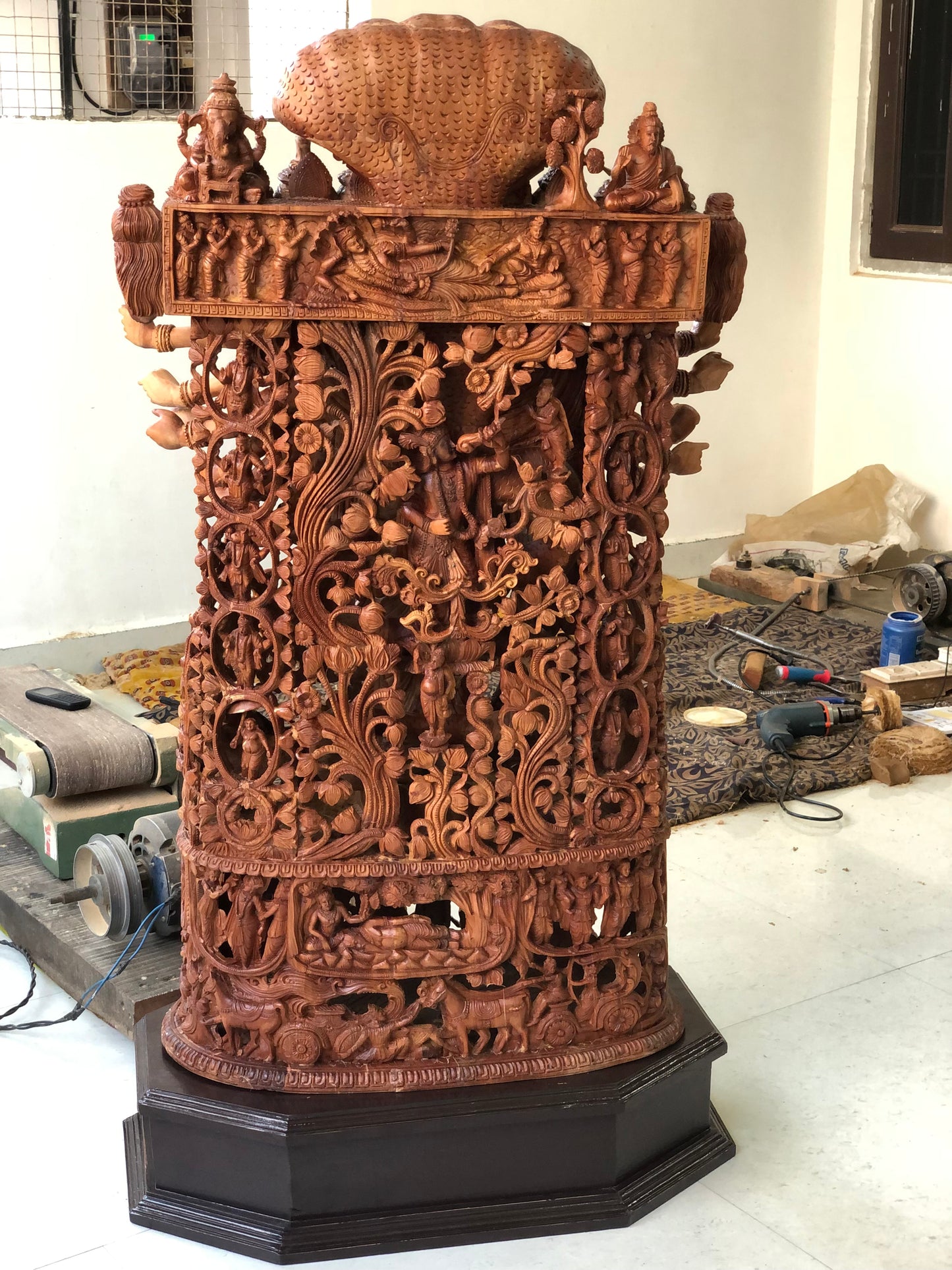 Customization
A very small collection of statues are presently on display. If you are
looking for a specific size or design for your idols please feel free to contact us with your specifications. Also, if we don't have a stock of any idols, we may be able to custom make one for you. we insist that the extremely detailed statues are handmade by Mohit Jangid & Team.
~ Mohit Jangid: Owner

I always say to our customers;
"The sculpture chooses you, you do not choose the sculpture. You just know when you find the right piece to bring into your home and into your heart."