The Jangid Family of Jaipur: Stewards of Rajasthan's Superlative Sandalwood Artistry
The Jangid family of Jaipur has earned worldwide recognition for their exceptional sandalwood carving skills. With 11 family members who have been honored with the prestigious National Award for their exquisitely crafted artifacts, their legacy is nothing short of remarkable. Currently, the fourth generation of the Jangid family is continuing to elevate this art form to new heights, showcasing their talent and dedication to the craft.
Discovering the Master Artisan: Malchand Kalakar Jangid
Malji possessed a natural artistic talent and preferred working at his own pace.
According to Mohit, his great-grandson, Malji was once crafting a wooden door frame when his supervisor reprimanded him for taking a break to smoke a bidi. Offended, Malji left the site. It is believed that the frame remained incomplete as no one could match his meticulous work.

Malji then began crafting sandalwood products, which gained him recognition for his beautiful wooden artifacts of deities, decorative items, and other pieces. There was great demand for his work and pieces as his work became more and more well known. In 1971, Malji won the national award for a Rajasthani doll he handcrafted. Mohit also recounts an interesting story about Malji. Once, at a gathering in Sardarshahar town in Churu, he met Shubhkaran Nahta, a wealthy businessman.
Impressed by Malji's craftsmanship, Nahta asked him to sell all of his pieces to him.
Today, these and other objets d'art made by the Jangid family are housed in the Nahta Museum in Sardarshahr.
Sh. Chothmal Ji Jangid
Sh. Chothmal Jangid, a distinguished artisan, was awarded the National Award in 1973 for his Sword, which beautifully depicted scenes from the life of Maharana Pratap Singh. He is the proud father of four sons, namely Vinod, Mahesh, Sitaram, and Pawan Jangid, all of whom have continued the family's legacy and are now raising the fourth generation of Jangids. At the age of 75, Chothmal Ji Jangid is still passionately carving and honing his craft, setting an inspiring example for generations to come.
Sh. Mahesh Ji Jangid
Experience the epitome of artistry in the form of the award-winning Fan, crafted by the illustrious Sh. Mahesh Ji Jangid. This masterpiece depicts the idyllic and divine scenes from the life of Krishna, surrounded by the serenity of nature and the charming cows.

Mahesh Jangid's passion for his craft led him to relocate with his family to Jaipur, where he continued to push the boundaries of his talent. His unwavering dedication to excellence is truly commendable, as he created and shattered several world records. Today, he takes pride in watching his sons follow in his footsteps and continue the legacy of the Jangid family.
Sh. Rohit Jangid
Rohit learnt the traditional art of miniature carving from his father Mr. Mahesh Jangid. Unlike his brother, Rohit is still studying. Although near graduation, he cannot dedicate to carving full-time just yet. He does, however, have a record in the Indian Book of Records for making a wooden house-fly and some national and local records for the same piece. In order to get his work exhibited, he participates in national and some local art and craft exhibitions. "Miniature carving  involves  engraving the wood on the contours of the design with the utmost care.
Crafts Council of India Awards Young Artisan Award to Shri. Mohit Jangid for Excellence in Sandalwood Miniature Carving
Sh. Mohit Jangid
The Crafts Council of India, sponsored by the Kaivalam Foundation of Chennai, has been administering the Young Artisan Award since 2018. The award recognizes the quality of craftsmanship of young artisans who represent the future of India's craft
industry. The award includes a cash prize, a medal, an Angavastram, citation, and a certificate.

Shri. Mohit Jangid, a native of Jaipur, Rajasthan, born into a family of miniature sandalwood carvers in 1992, has been awarded the Young Artisan Award for 2019 for his excellence in sandalwood miniature carving. He was initiated into the family craft at a young age by his father, Shri. Mahesh Jangid. He became passionately dedicated to his craft and decided to pursue it as his vocation for its limitless creativity and better livelihood options. The delicacy and intricate detailing of Mohit Jangid's sandalwood miniature carving depict events from mythology, epics, and stories of gods and goddesses. Shri. Mohit Jangid holds the work record for crafting the smallest playable violin carved out of sandalwood, for which he has won two national records. This remarkable piece, 130 mm in height, performs the same function as the original violin with four strings. He is also the winner of the Rajasthan State Award for Excellence in the craft of miniature carving.
The Crafts Council of India takes great pleasure in conferring the Young Artisan Award on Shri. Mohit Jangid for the year 2019.
Enhancing Business and Empowering Artisans
Mohit's passion for woodworking began during his childhood when he watched his father skillfully craft various wooden pieces. At the age of 13, he joined his father's business and learned the art from him. However, due to a decline in business in Churu, Mohit's father relocated to Jaipur in 2000 and established a workshop there. With new opportunities, their business flourished, and they started receiving orders from both domestic and international clients. To expand their reach, they ventured into the online market, which led to the opening of another store in Jaipur in 2023.
"Approximately 80 percent of our sales come from the US, UK, Malaysia, and China," Mohit explains.
Although statues make up the majority of their work, Mohit and his team also specialize in creating customized products based on clients' requests. Clients provide pictures of the desired artifact, and Mohit quotes a price based on the design's intricacy and size.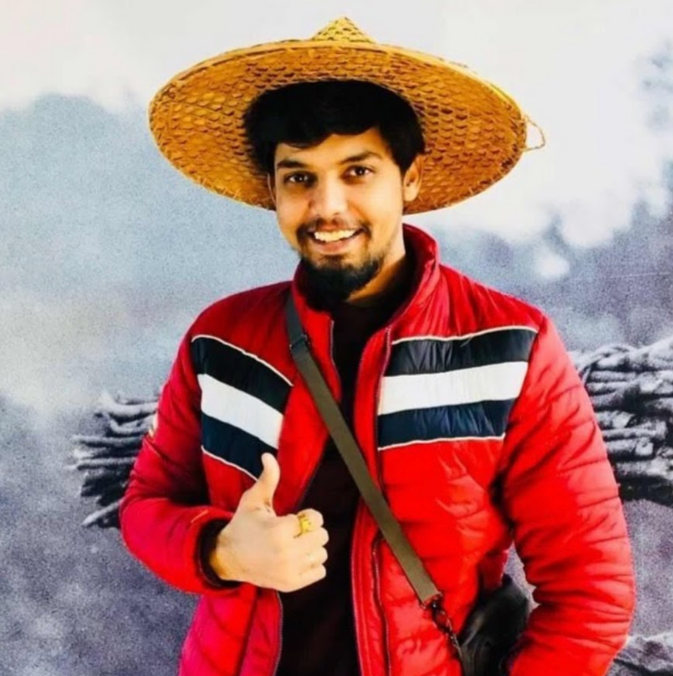 "Someday I would like to build a museum that can people can come and see the kind of work that the three generations of my family have done. I hope to take their name ahead,"