PM Modi gifts Sandalwood Sitar to French President Emmanuel Macron
This unique replica of the musical instrument Sitar is made of pure sandalwood by Mohit Jangid & Family. The Royal Veena is one of the most famous and appreciated artwork piece of Mohit Jangid. It is one of the pieces that has won the family one of their many National and International Awards. This sitar depicts the life story of Mian Tansen, who is famous for his skills as a musician. The sitar has many elements, it has dancing Ganesha and peacocks seated on both sides of the resonating chamber that is complemented by Sarswati carved on top of the veena. The overall elements that are present in the Veena are three minor compartments and one major compartment. All these compartments open up using the tuning pegs of the veena demonstrating byzantine carving each staging a different story of Tansen's life.
Sandalwood Jewellery Box
Behold the awe-inspiring Sandalwood fine carved jewelry box crafted by the renowned artisan Mohit Jangid. This masterpiece boasts a captivating elephant story that is sure to leave you spellbound.
Sandalwood Carved Vishwaroopam
The 4 feet Vishwaroopam contains Lord Mahavishnu's 11 faces with different expressions and related crafts. The situation which triggered the Mahabharata war is the theme of the sculpture. Based on the Customer's wish, Mohit built It using Sandal wood.
Lord Krishna Showing Vishvarupa to Arjun During Mahabharata (Gita Upadesha)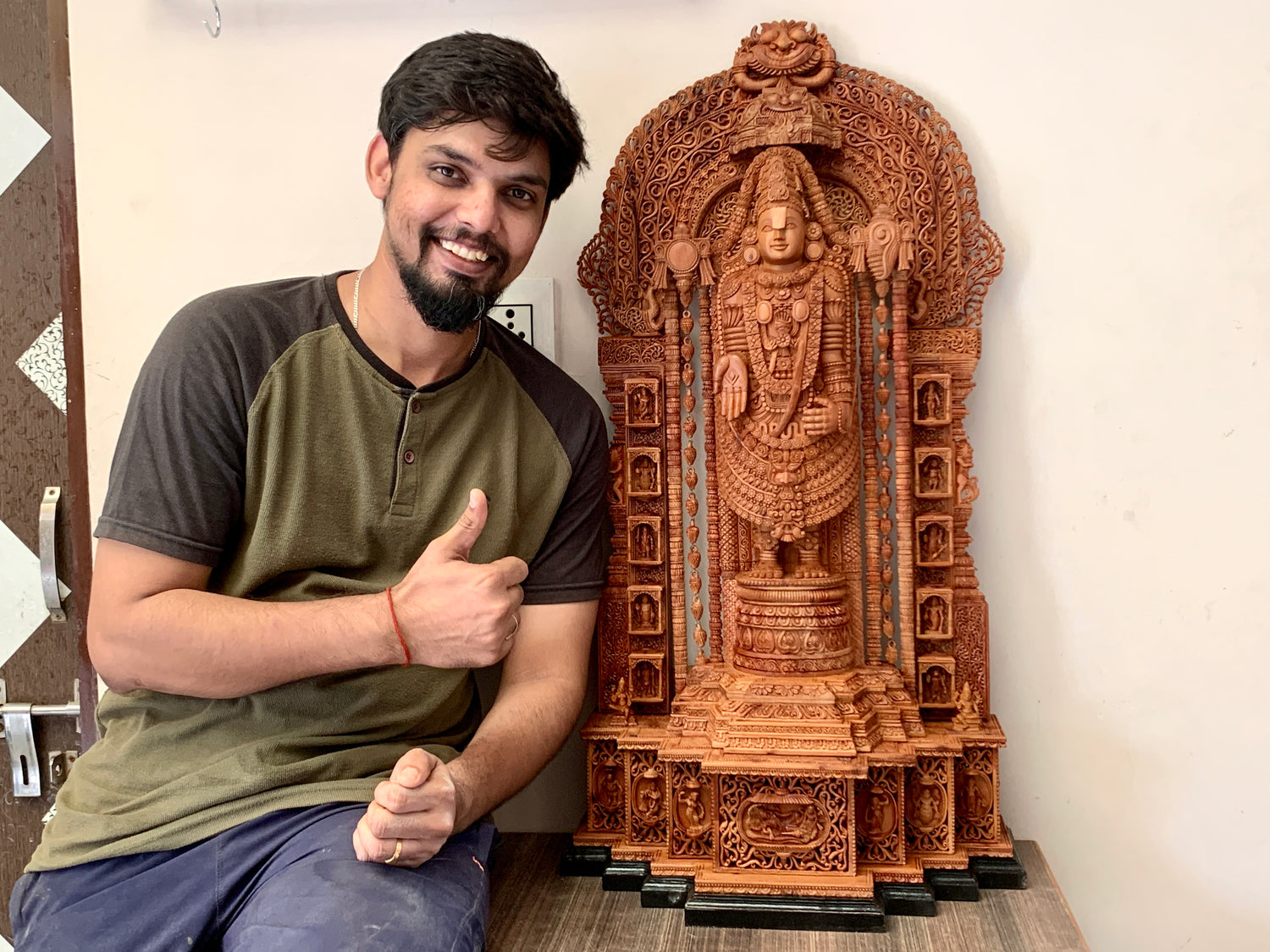 Sandalwood Carved Lord of the Seven Hills Venkateswara Incarnation of Vishnu Sculpture
A remarkable Sandalwood Tirupati Balaji statue, adorned with intricate carvings of Dasavtaram on its side pillars, has been sold to a discerning buyer in the United States. This rare masterpiece showcases a commanding presence, with the deity's shoulders graced by a powerful discus and a symbol of existence, the conch shell. The extended right hand, in the Varada mudra, beckons devotees to entrust their faith and seek protection.
Recreating 'THE THRONE OF QUEEN VICTORIA' in Sandalwood by Mohit Jangid
The task at hand for Mohit Jangid involved recreating a magnificent piece of art - 'The Throne of Queen Victoria' - out of Sandalwood. Mr. Jangid is no stranger to such projects, having already worked on numerous custom pieces for affluent families such as Emami, Jackson, and Havels. Given his impressive portfolio.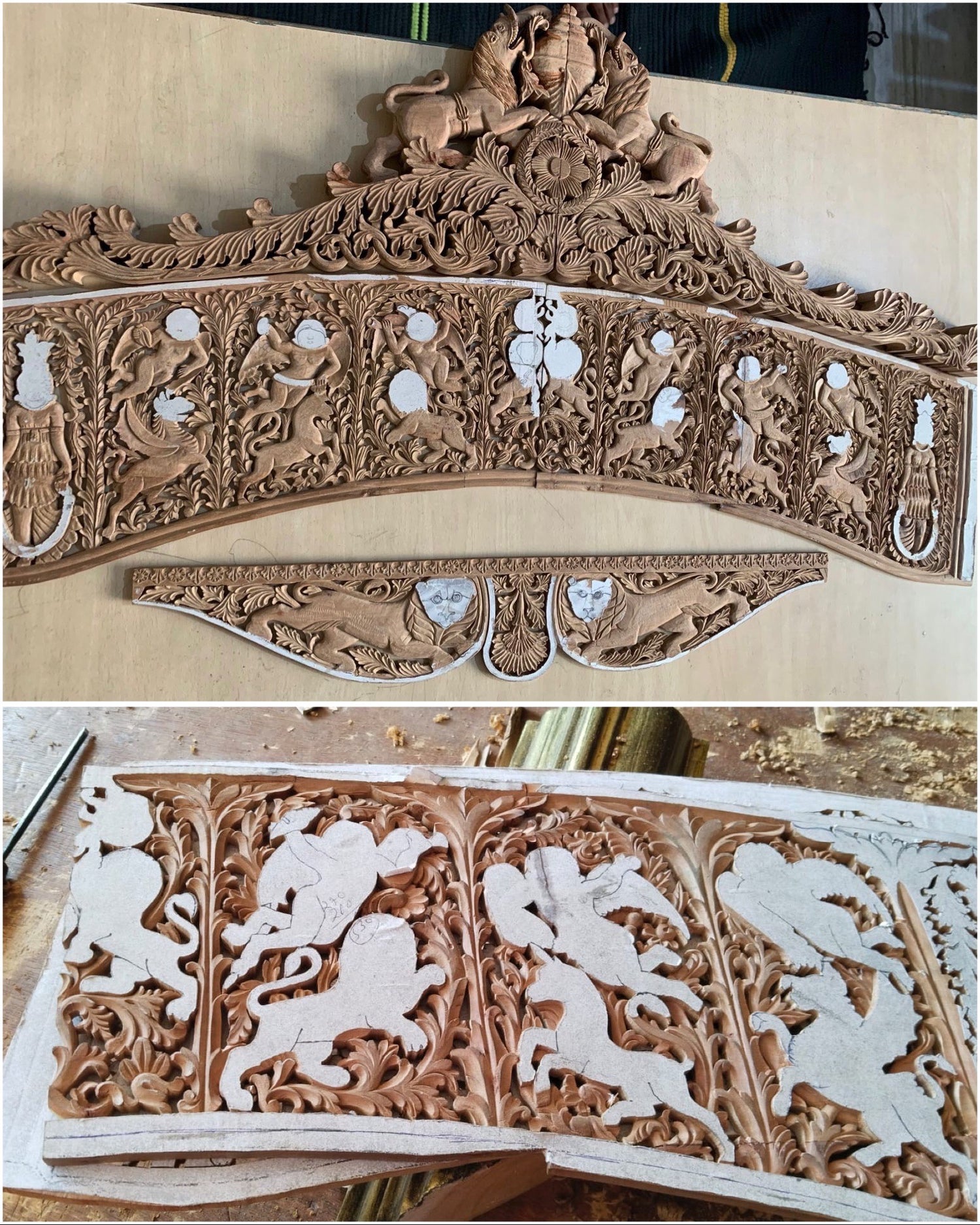 an American art collector from California approached Mr. Jangid for a unique project. The challenge was to reproduce the aforementioned throne, a feat which had never been attempted by any other artist except the original creator. To ensure Mr. Jangid's competence in wood carving, the collector assigned him several tasks; only after successfully completing them to the collector's satisfaction was Mr. Jangid commissioned to create the throne. With several months dedicated to this labor of love, the sandalwood throne will undoubtedly be a one-of-a-kind masterpiece, crafted with precision to match the original.
Indian carved sandalwood pocket watch
This exquisite sculpture / artifact is made up of Sandal Wood by Mohit jangid & is completely handmade. This is a clock with foldable Lal Quila & Taj Mahal which is one of its kind. This handicraft takes lot of time as very fine carving is required on with lots of detailing & craftsmanship. It has India's famous Lal Quila & one of the seven wonders of the world Taj Mahal engraved which can be hidden inside the Clock.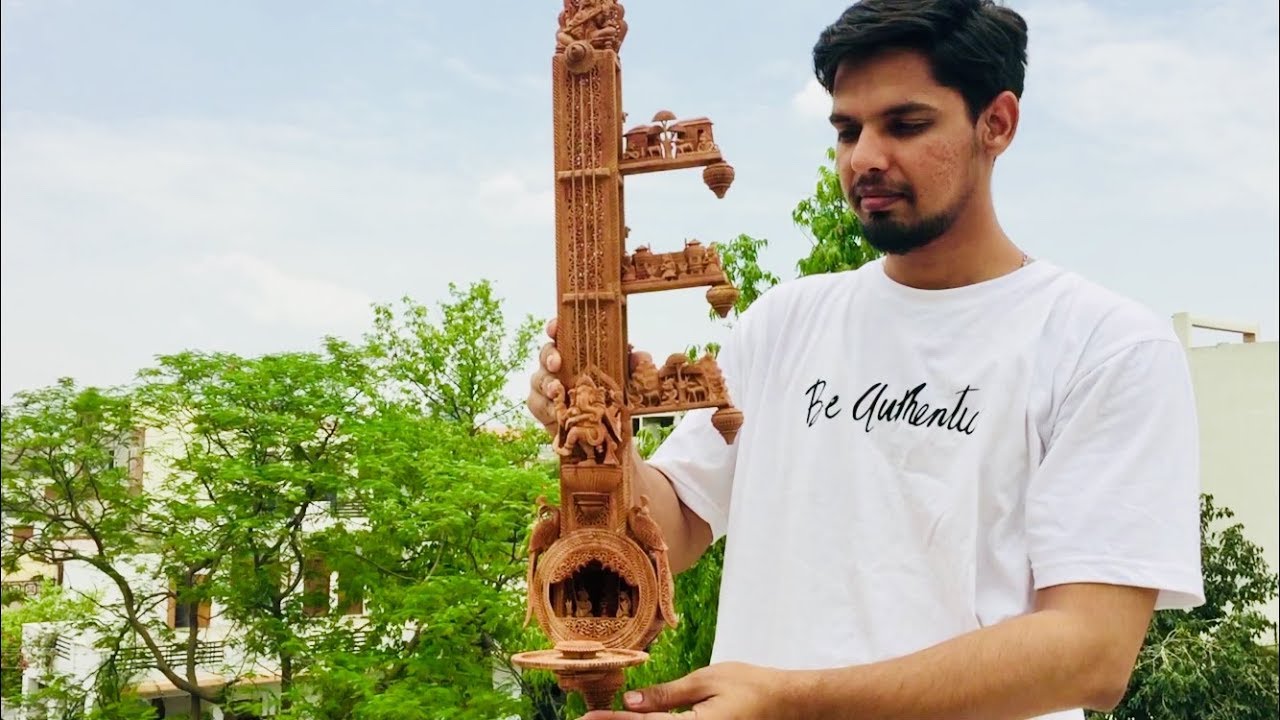 Sandalwood Walking Stick
Size: 3.1 ft (37" inches)
Single piece of Sandalwood
Behold, an exquisite sandalwood walking stick crafted by the skilled hands of Mohit Jangid. This unparalleled masterpiece boasts an intricate design adorned with a plethora of vibrant floral arrangements and even fluttering butterflies. Truly, a one-of-a-kind creation that is sure to captivate the senses.
Sandalwood Carved Laxmi Statue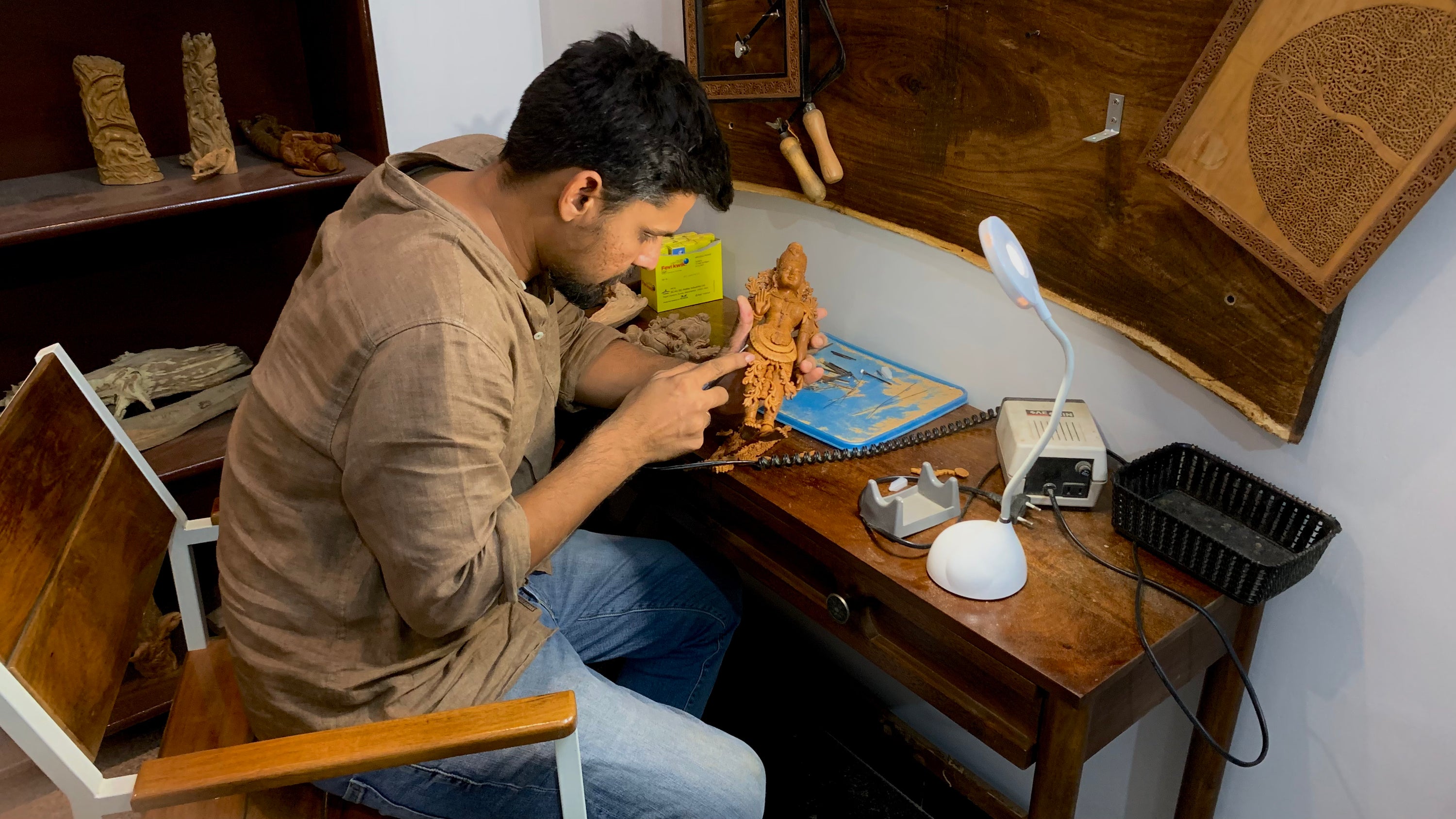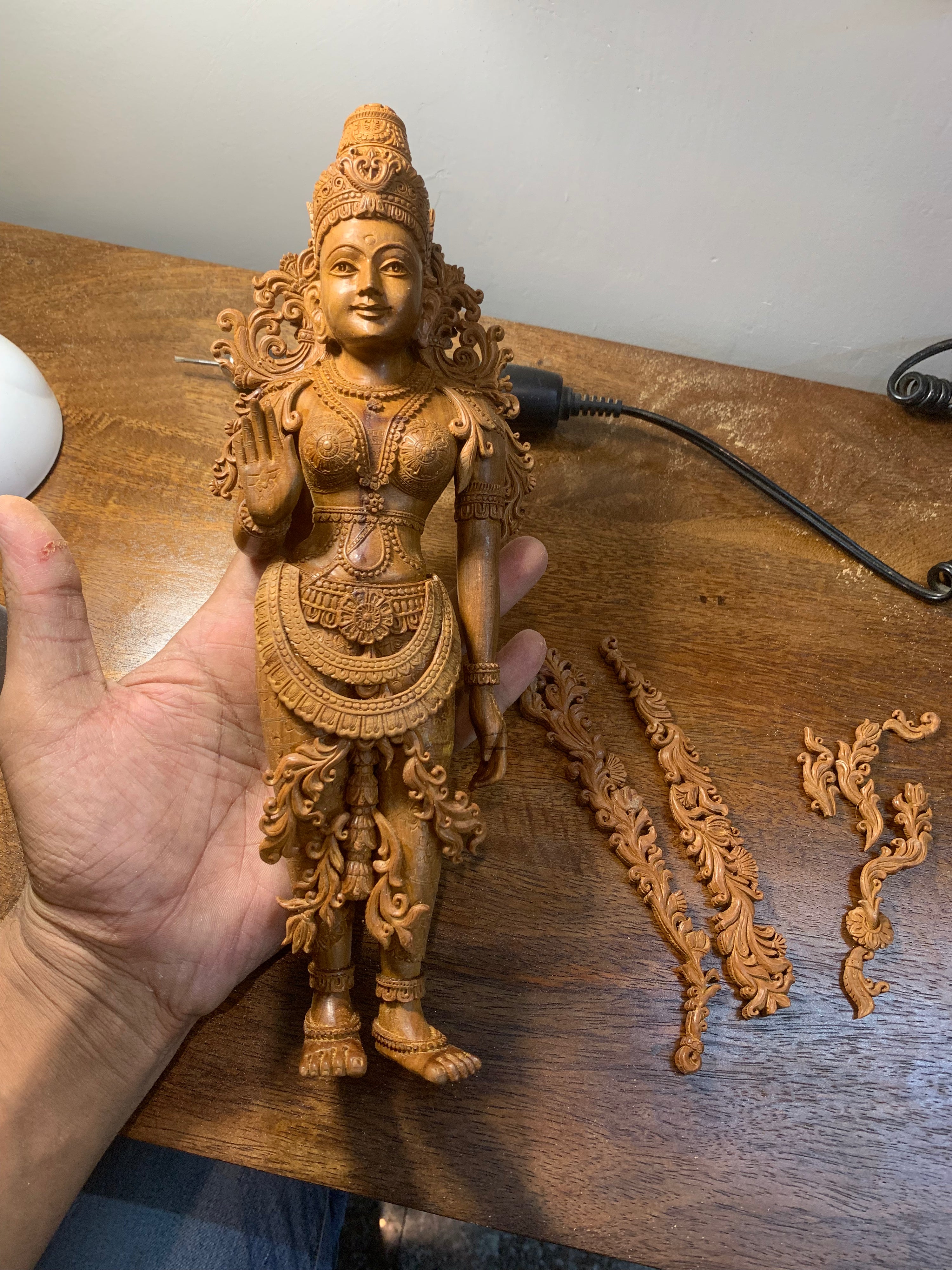 This stunning, sandalwood carving of Laxmi is hand carved by Mohit Jangid and one of a kind, The carving is amazing with the details of every aspect of the sculpture, from her beautiful conical head dress to the floral swirling designs cascading down her body, being masterfully carved by Mohit Jangid,
Laxmi wears a wealth of finely carved Jewelry, flowers and clothing with as she stands in the abhanga, meaning "with one curve", standing position with her right hip is pushed out and all her weight on her straight right leg and her right hand held up in the abhaya mudra of protection.
"Shrine of Goddess Durga" Mahishasuramardini
Superbly sandalwood carved Durga and her lion in mortal combat with the Buffalo demon Mahisasura, flanked by Lakshmi and Saraswati on lotus bases, Ganesha and Skanda on their mounts, all mounted on a carved sandalwood table and set against an architectural backdrop inset with a mirror, surmounted by an arched frame carved in fine relief with a pantheon of deities. by Mohit Jangid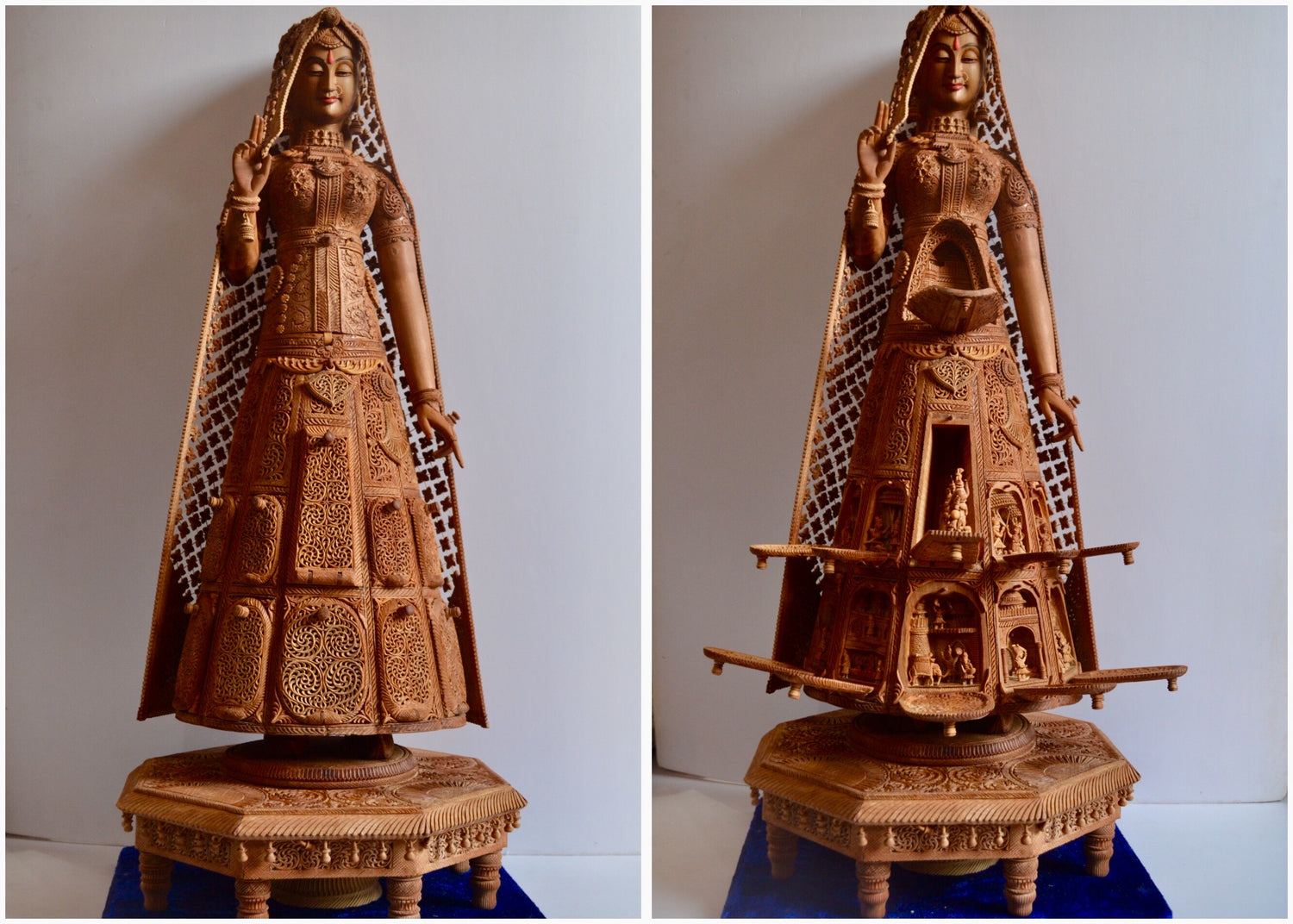 Sandalwood Rajasthani Doll
The Rajasthani Lady is made by Mohit Jangid, Signature work of Jangid Family, whose generations have transferred their knowledge & expertise & is unique not only in India but across the world. Each piece is completely hand crafted.