Regular price
Sale price
$800 USD
Unit price
per
Sale
Sold out
Height: 16 Inches; Width: 10 Inches
Description of This Sandalwood Carved Decorative Krishna Pankhi
Sandalwood Carved Collective Krishna Pankhi by National Award Winning Jangid Family Churu Wale. (Mahesh Jangid, Mohit Jangid & Rohit Jangid)
Unique Sandalwood Carved Opening Pankhi Collective Art-piece with 2 Windows in Handle and 1 master scene in Round Design, all scenes are very detailed miniature carved and has Story on krishna's life.
News Highlights:
'Krishna Pankhi': PM Modi's gifts to Fumio Kishida
In a warm gesture, Prime Minister Narendra Modi gifted his Japanese counterpart Fumio Kishida, a 'Krishna Pankhi', a sandalwood artefact made in Rajasthan with intricate work with its windows depicting different poses of Lord Krishna, epitomising love, compassion and tenderness.
Sharing details, official sources noted that the 'Pankhi' is intricately carved with traditional tools and has a hand carved peacock figure at top, India's national bird.
It has a small 'ghungaroo' (small traditional bells) on its edges which move with the flow of wind and has four concealed windows with more intricate carvings inside.
The intricate carving on the sandalwood is done with precision by Jangid Family Churu Wale in Rajasthan, who carve the already impressive sandalwood artefact into a beautiful and elegant masterpiece of art.
This artefact is made of pure sandalwood, which grows mainly in the forests of southern parts of India. It has hand carving along with traditional 'jali' designs.
Shipping & Returns

· Professional worldwide delivery, monitored by our logistics experts

· Shipping fees, duties and taxes are included in the price

· 14 day free returns (except made-to-order items)
Care Instructions

Clean with soft dry cloth on a regular basis. In case of dust accumulation gently dust of the surface with a fine brush.
One Of A Kind

Original work with a certificate

Free Shipping Worldwide
Whatsapp Support: +91 8290383535
View full details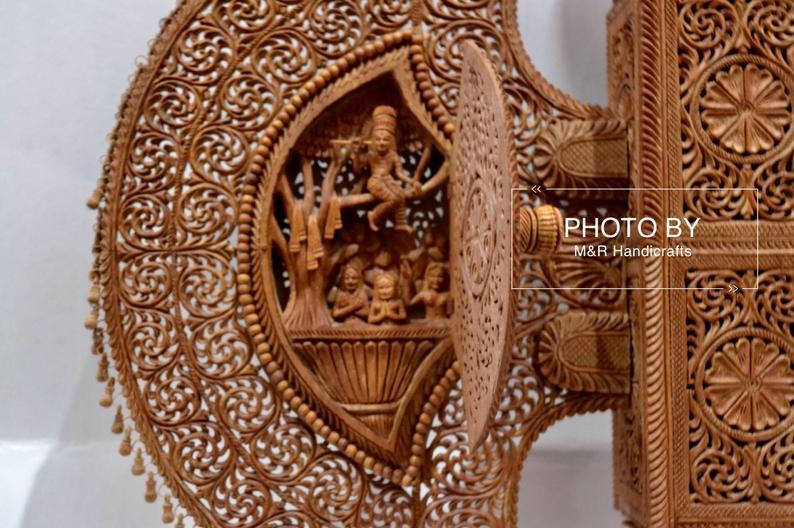 Customization
A very small collection of statues are presently on display. If you are
looking for a specific size or design for your idols please feel free to contact us with your specifications. Also, if we don't have a stock of any idols, we may be able to custom make one for you. we insist that the extremely detailed statues are handmade by Mohit Jangid & Team.
~ Mohit Jangid: Owner

I always say to our customers;
"The sculpture chooses you, you do not choose the sculpture. You just know when you find the right piece to bring into your home and into your heart."